PHOTO | COURTESY OF EDWARD M. KENNEDY COMMUNITY HEALTH CENTER
By Sarah Connell Sanders
Steve Kerrigan established himself as a senior aide to Senator Edward Kennedy before taking on the roles of CEO of both the 2012 Democratic National Convention Committee and the 2013 Presidential Inaugural Committee. Kerrigan then served as chief of staff for President Barack Obama's 2009 Presidential Inaugural Committee.
What attracted you to EMK, and how long have you served as CEO?
The mission attracted me. I did not have a career in public health or healthcare at all when I was recruited for the job, but I did have experience working for Edward Kennedy, the senator, who was driven for his entire career to provide healthcare access to everybody regardless of ability to pay. I've been in the job since July 2, 2019.
Tell me about EMK's latest trans health care offerings.
We're incredibly excited to have recently launched a trans healthcare practice based in our Worcester health center. We have 100 or so patients now, and we've only been open a couple of months. We're the only health center west of Boston doing this specific work. We're really proud to be on the cutting edge because it is so critical for people to have access to competent care directed at their needs and the issues they're going through as trans patients.
We have some clinicians who have been doing this work for a very long time with a lot of our patients, but it is great to now offer a formalized unit focused on trans health. Giving people an understanding that they can be themselves in front of their doctors and have conversations about what they truly need from a care perspective is really pivotal. I am a very proud out gay man. I know how important it is to have a provider who understands the needs of the LGBTQ+ community. I'm just thrilled we can do that for our trans patients and our trans friends.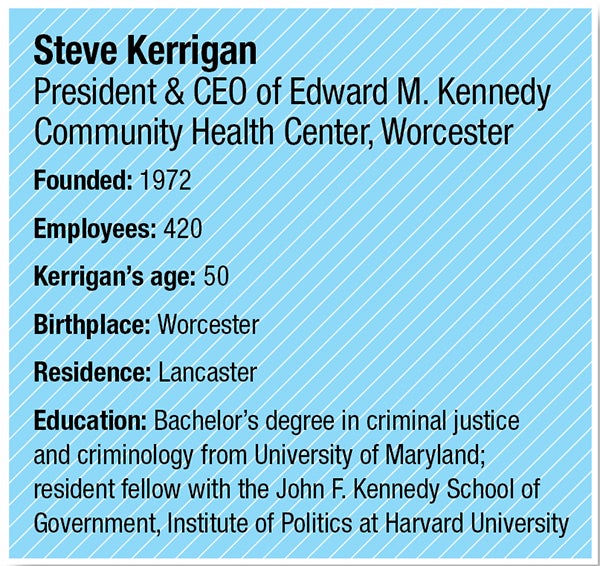 How are you approaching a capital campaign during this precarious time?
We almost don't have an option when it comes to the Milford expansion. There is such a need across all the communities we serve, but particularly in Milford. We currently provide primary care in a 5,000-square-foot site in Milford. The need in the community is such we desperately require more access to primary care. We want to increase access to dental care, optometry care, and behavioral health care. That was enhanced and amplified during COVID, which is why we kept moving forward with plans to expand.
We can't wait for there to be better economic times to do this work because it's moments like this when the service we provide is much more in demand. We provide access to care regardless of ability to pay; that is a critical part of who we are. By making our case to the community about the value, we're going to be able to meet our goals and hopefully get this building occupied and running by the end of the year.
EMK was started 50 years ago by seven women from Great Brook Valley. How are you preserving their legacy while addressing the community's needs?
It's funny; the needs of those seven brave founding mothers, as I call them, are still the needs today. They were tired of sending their children and family to the emergency room to receive primary care. It's at the root of who we are as an organization. Our job is to provide access to care for folks.
We're obviously much different than the one room they occupied with one nurse practitioner back in 1972. Now, we have 11 different sites, including six school-based health centers. We employ more than 420 people and see almost 30,000 patients a year. Their original goal is very much at the center of our current mission, which is to help people live healthier lives and to give them access to high quality care, regardless of their ability to pay. My hope is, wherever they are, they are looking down on us, and they are proud of their legacy. But for their bravery and ingenuity to set up this center and to get the right partners together to make it a reality, we would not have served more than a quarter million people over the course of our 50-year history.
Is there a network of support among nonprofit leaders in Central Mass.?
Yes. All of the leaders across all of the nonprofits work really well together. That dynamic was, of course, exemplified in response to the pandemic. Worcester Together assembled on 24 hours notice when the pandemic hit and provided critical care for folks. Even before that, people were incredibly welcoming. When I got the job, they scheduled visits and conversations so I could learn about what how they impact the community.
This interview was conducted and edited for length and clarity by WBJ correspondent Sarah Connell Sanders.